Property investing for everyone
Start growing your passive income today. Invest from as low as 100 EUR in real estate crowdfunding opportunities worldwide. BrikkApp helps you build your future.
Get Started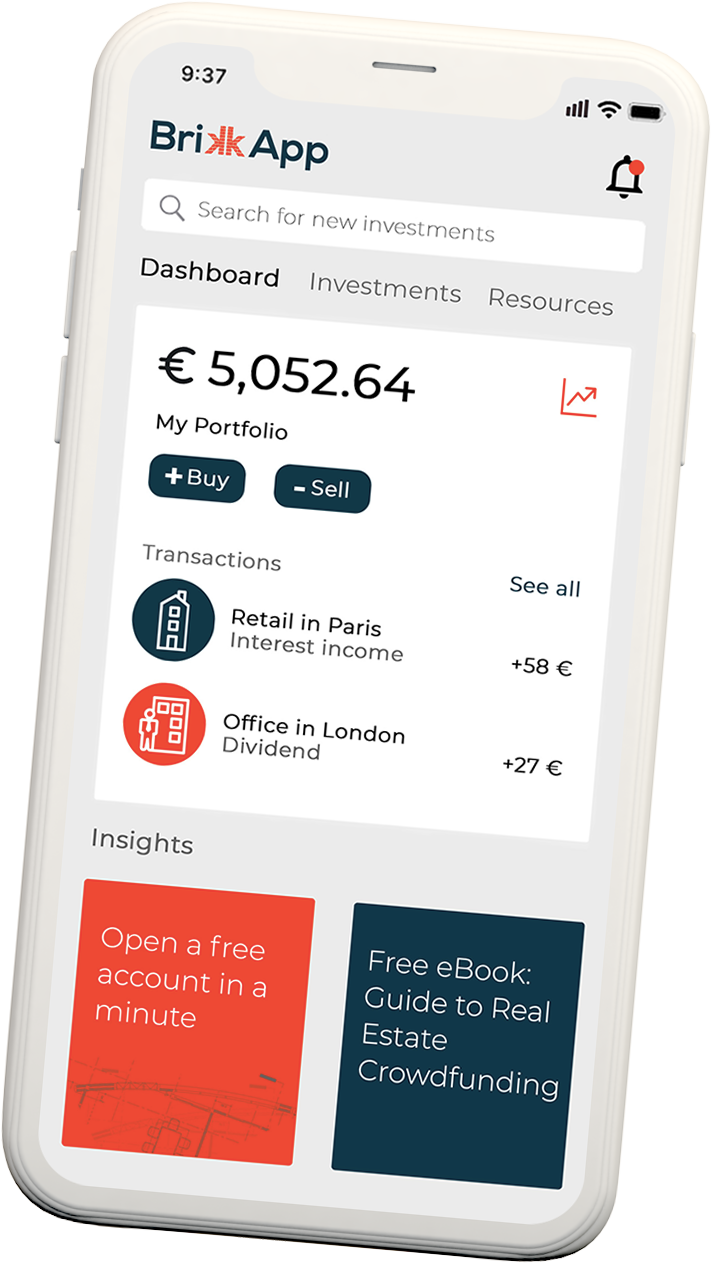 format_quote Learning to invest is like learning to swim. We created BrikkApp to allow everyone to benefit from investing in real estate. Whether you are looking for ways to expand your property crowdfunding portfolio or you are just getting started with limited funds, BrikkApp gives you tools and guidance to help you achieve financial freedom.

format_quote Learn how to start investing >
BrikkApp makes real estate crowdfunding easy
Join millions of people who invested in fractions of properties online. Compare investment opportunities from hundreds of platforms worldwide. Start investing with as little as 100 EUR.
Last updated: 07.12.2021, 14:01
*REC = Real estate/property crowdfunding
Source: Aggregate data from the European Economic Area

Crowdscanner - Find your next investment
Try the BrikkApp's Crowdscanner to search for real estate crowdfunding investments worldwide. Start searching by typing your city or country.
Where do you want to invest today?
close
Put your money to work
Think about your dreams
Longterm investing can get you closer to your dream house, vacation, or education. We help you achieve your goals.
Find the right investments
Compare hundreds of deals and platforms to find the right investments for you. Full market data at your fingertip.
Start small or go big
Real estate is a great choice for any investor. If you are just starting, you can start learning from small amounts.
See what others have
to say
See what others have

to say
"I always wanted to invest in real estate because its stable and longterm. With BrikkApp I finally know how!"
Jordan Perry
"Knowing which platform to choose is really time consuming. BrikkApp does the work for me."
Julia Becker
"I have been investing in stocks for decades but BrikkApp opened a new world of options."
Karel Pokorný
"Me and my partner are saving for our own house. It's still a long journey but with BrikkApp we know we get there!"
Einar Tamm
Join millions of property investors worlwide
Register and start using our services now
Register