"Real estate is an interesting asset," says Mihal Gartenberg, an agent at New York-based Warburg Realty Partnership. "When the stock market is doing poorly, investors who are looking for other opportunities find that real estate is a safe haven." But are properties still a reliable investment choice in a post-pandemic world?
Despite fears of falling house prices and unpredictable markets, COVID-19 has actually revitalized the real-estate industry in numerous ways. These changes could paint a bright future with promising – yet different – projects for developers, startups, and investors alike.
Technology enhancing the property investment process
When it comes to digitization, real estate certainly hasn't led the way. This could all change now; COVID-19 has brought new challenges, and technology has stepped up to offer the solutions.
The longer the pandemic lasts, the higher the chance that digitization initiatives will become industry-norm, as opposed to a temporary solution. This is great news for proptech, a sector that uses technology to disrupt and improve the way we buy, rent, sell, design, construct, manage, and invest in residential and commercial property. According to research firm CREtech, investment in proptech companies globally hit $14 billion in the first half of 2019, a 309% increase from the first half of 2018.
The real estate market is finally turning to the major technologies of the fourth industrial revolution, including the Internet of Things (IoT), artificial intelligence (AI), blockchain, and much more. So, how are property investment processes being affected by this trend? Smart buildings, real-time data, and virtual tours are just some examples of new technology enjoyed by the real estate industry since COVID-19, but one of the most exciting advancements is the expansion of property crowdfunding.
With both equity and debt projects, property crowdfunding emerged as a viable strategy, allowing anyone to chip in as little as $100. By incorporating elements of the sharing economy, these platforms present an equivalent to what Robinhood and others have been doing in financial services.
But it's not just intelligent dashboards and an instant gratification element that have ensured a steady performance for property-backed peer-to-peer platforms throughout the pandemic. By taking away the risks involved with direct property management, such as tax issues and hidden costs, the whole investment experience becomes unprecedentedly convenient.
Interestingly, it's not just individual investors looking to explore the property crowdfunding space. While banks usually take a step back from real-estate during recessions, some have been sealing unlikely partnerships, which is the case of Komerční Banka, a leading Czech bank, that has recently partnered with Upvest, a property crowdfunding startup.
To learn more about real estate crowdfunding, download your free eBook today and receive the tips, insights, and market trends that can help you make the most out of your investments.
The notion of what makes a good location changes
There's a notorious cliché in the real estate industry – that is, location, location, location, and this mantra will survive post-COVID as well. Today, over 55% of the world's population lives in urban areas, a proportion that is expected to increase to 68% by 2050.
However, the notion of what makes a good location is now changing. According to Rightmove, there has been a significant rise in searches for homes that are further from town and city centers, with larger gardens and space for a home office. While it's too early to say whether this is a permanent change, it's obvious that the pandemic has made many people rethink how they want to work and live.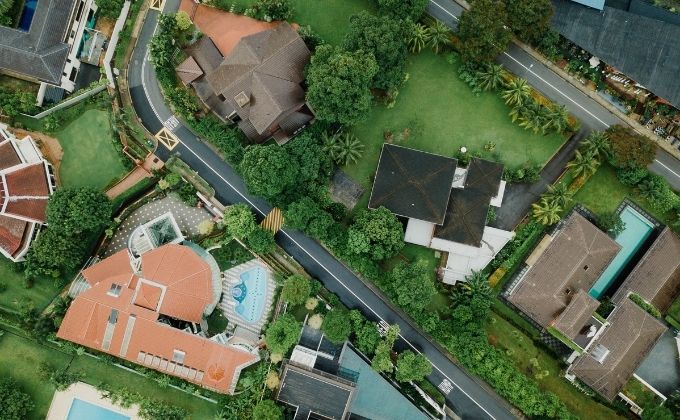 The demand for social & environmental responsibility spikes
If you asked any manager what corporate social responsibility meant a decade ago, they would probably tell you about publishing a nice brochure twice a year. This has changed since, with investors across the board pushing for a lower carbon footprint and a clear commitment to sustainable development goals. Unsurprisingly, such conversations were further spurred by the outbreak of COVID-19.
Investing in sustainable projects also makes sense financially, as there has been a growing demand among tenants for green buildings. Moreover, considering environmental factors such as climate risk, waste management, and energy consumption in the building helps prevent its obsolescence and, in consequence, cut operational costs. Ultimately, obtaining the "green" building certificates such as BREEAM is said to help increase a net operating income and improve the overall valuation of such buildings, compared to non-certified ones.
Digital transformation and evolving industry norms mean that the benefits of property investing can now be enjoyed by a wider demographic, and thanks to innovations such as crowdfunding platforms, you can join in with as little as $100. These changes in the real estate market mean that – contrary to what you might think – now could be a great time for you to invest.
If you're looking to explore real estate crowdfunding, BrikkApp is the place to start. Our database offers an independent overview and data about more than 200 real estate crowdfunding platforms around the world. To get access to our database, register for free.
This article is based on an article published on TechCrunch, where our CEO and co-founder Jan Večerka discussed this topic in more depth.